Media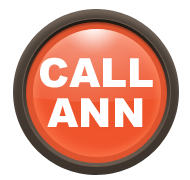 This is a collection of articles featured in various papers/ magazines about Ann Kelly and the impact she has on people's lives.
Ann says,  'the articles in the Irish Times and Sunday Independent prompted Irish people from Russia and the UK to call me and become my clients. The Irish Times article drew the participants for the first White Space Getaway. I had daughters ringing me about their mothers and fathers ringing me about their sons.'
Irish Times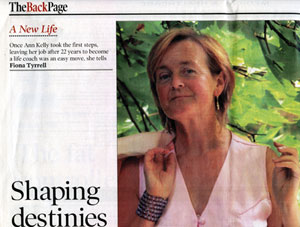 Irish Times – July 20th 2004
Shaping destinies
A NEW LIFE: Once Ann Kelly took the first steps, leaving her job after 22 years to become a life coach was an easy move, she tells Fiona Tyrrell.
Life changes are difficult but if you trust yourself to take the first few steps the "magic will happen". That's according to Ann Kelly who, having swapped her career as a buyer for a multi-national pharmaceutical company to become a life coach, makes it her business to understand the process of life changes.
"This article brought a rush of clients to my business. I just sat by the phone for the day and took calls."
Sunday Independent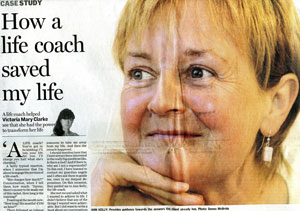 'People tore the article out of the paper and kept it for a year or so and then became my clients. It prompted a rush of clients to my business'
CASE STUDY: Irish Independant Sunday February 16th 2003
How a life coach saved my life
A life coach helped Victoria Mary Clarke see that she had the power to transform her life.
I wasn't about to die, physically at least, when I met Ann. But mentally, emotionally and spiritually, I was abandoning ship. The hopes and dreams I'd had as a kid had long since died. If you had told me, at the age of 16, that I would not be a millionaire by my 21st birthday, I would have laughed in your face.
Enormously ambitious at that age, I was confident that I would be a movie-star by 20 and a supermodel/fashion designer/ best-selling author as well. So confident was I that I didn't think I needed to do anything to make this stuff happen, except wait.   By the age of 35, I was still waiting.
Irish Tribune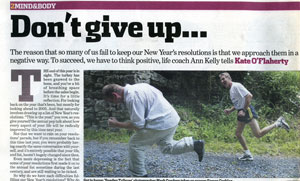 Sunday Tribune 26 December 2004
Don't give up……
The reason that so many of fail to keep our New Year's resolutions is that we approach them in a negative way. To succeed, we have to think positive, life coach Ann Kelly tells Kate O'Flaherty.
The end of this year is in sight. The turkey has been gnawed to the bone, and you've a bit of breathing space before the sales begin. It's time for a little reflection; for looking back on the year that's been, but mostly for looking ahead to 2005. And that naturally involves drawing up a list of New Year's resolutions. "This is the year," you vow as you give yourself the annual pep talk about how every aspect of your life will be radically improved by this time next year
Image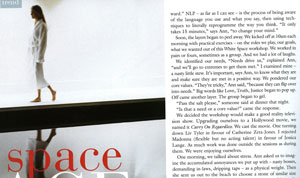 Image Magazine November 2004
At a Life coaching retreat in Connemara, FRANCES POWER leaves her inner cynic at home.
I'm sitting on a white sofa in a light-filled room a stone's throw away from the sea. With me are eight other people. One is Ann Kelly, a life coach whose mission for the week is to lead us through our emotional boglands to the safety of higher, drier ground. The rest of us are a mixed bag. Mostly thirties and forties, some single, some not, but all looking for answers. We're here because of work, relationships and that catch-all, to find a better quality of life.
Irish Examiner
Friday, June 25th 2004
Ways to get your point across
Helen O'Callaghan explains why the ability to negotiate is a prized skill.
There's one thing you'll do every minute today and that's negotiate. With yourself first of all – 'Will I get up now or will I hit the snooze button for another 10 minutes?' 'Will I have that coffee or not?' And that's before you even begin negotiating with others.
"Every day of our lives we're negotiating. From the baby in the pram looking for attention to the father negotiating with his teenagers on how long they stay out,' says Cork-based life coach, Ann Kelly, who believes effective negotiation is an art which can be learned.
"Being a good negotiator can mean more money in the bank, better relationships with your partner and others, and interesting solutions to work or personal situations. For instance, if you're going through a divorce or separation, being a good negotiator can mean the difference between left without a roof over your head or living in comfort for the rest of your life."
Cork Now
January 2004
I'm sure we've all heard the expression 'sure he wouldn't tell his left hand what his right hand was doing'. In fact, I heard of an elderly lady the other day who was changing her car. She bought the new car in the same colour as the old one in case the neighbours would notice and think she had come into money!
There was a time in Ireland when, if you were successful or doing well, you played it down. You definitely never told anyone how you did it. It was a BIG SECRET!
We all know someone whom we admire. Have you ever wondered how they do what they do? Are you curious but don't dare to ask?
What's interesting about life coaching is that now people have the opportunity to access the wisdom from coaches with diverse backgrounds, who walk their own talk and are trained to help you do likewise.
Life coaching is becoming better known in Ireland. It's big in the US and growing fast in the UK and many European countries, because it works.
It makes sense, when you think of it. People run out to book a session with a golf and tennis coach to perfect their game, so why not work on perfecting you life?